Ok just for a bit of back ground I was lucky enough to win the Eclipse Board on the Premier League Prediction competition & then the RvB Black Titanium Darts on the World Cup Prediction contest.
I have held back posting a review of either of these as really I wanted to see how they both stood up over a long period of time as I feel this gives a better reflection of how good (or bad) a product is.
Firstly the darts
http://www.unicorn-darts.com/range/dart ... anium.aspx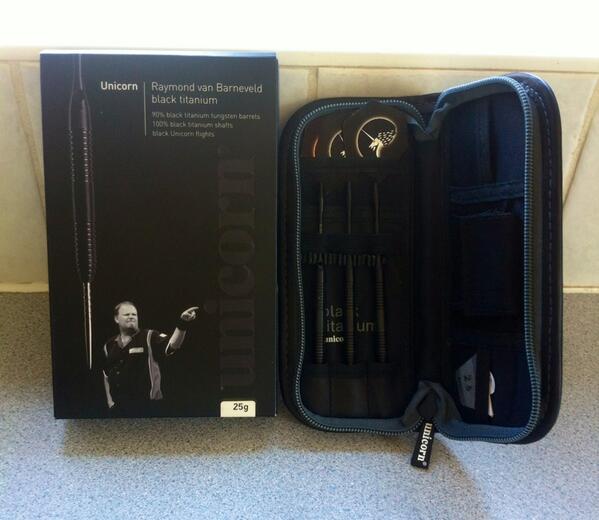 They come with a rather nice case which is probably the best case I have ever seen come with a set of darts in terms of usefulness and quality and with a set of RvB flights and the titanium shafts and replaceable titanium flight holders.
I immediately dispensed with the titanium shafts and flight holders as I have never been keen on stems and shafts like this and to be fair you always need to have more than a few spares to hand as the metal type shafts tend to damage quickly if you throw a dart into them.
So what are the darts like
This is a picture of them around 7 months from new having been used for at least 30 mins a day every day since.
They have stood up to wear immensely well and are still as good a grip as when they came out of the packet. These darts have a kind of special coating on to aid grip which I did initially think would stop being of any use after a few throws but I was wrong.
I find because of the enhanced grip ever single time I pick one up to throw it goes into the right position in my fingers every time and never slips or rolls which until I got these darts I never realised was such a big problem with others !
I am also a big fan now of the milled grip put into the points as I find this again makes me feel more and more positive as I throw. I did have some concerns over these types of points damaging or accelerating the wear on a board but this has not been an issue at all.
Now what's the verdict ?
These are without a shadow of a doubt the best darts I have ever touched, thrown or owned. I would not hesitate to buy another set if I lost or damaged one of these even though they are in the £40 range which some people may class as expensive. I have found I am now throwing better & scoring heavier than I have done for years and I feel this is solely down to these darts as they come out of my hand so well and never slip or perhaps more importantly I know they will not slip in my fingers when throwing. Before I had these darts I was snatching very badly and I thought that I would never realistically ever play competitively again now I feel I am not far off my best and am regularly, in practice at least , hitting big trebles more or less at will. I really cannot recommend these darts enough.
Now onto the Unicorn Eclipse Board.
http://www.unicorn-darts.com/range/dart ... board.aspx
This board replaced an old Blade III that was a few years old that tended to suffer from mould for some reason (sisal is a natural living fibre) due to it being hung in the garage. To date I have not suffered any mould on this board so that's a good point to being with.
My first initial observation is that the trebles, doubles, bulls eyes etc are no bigger or smaller than the Blade III it replaced and I am still of this opinion. I seem to have suffered fewer bounce outs on this board over the past few months but again this was never an issue on the board it replaced. Now most bounce outs I get are from hitting another dart rather than off the board or wires.
Now I did have some initial concerns with this board over it seeming to wear rapidly due to the milled points on the above darts but I quickly discovered this was unfounded and the wear I was seeing was not the sisal wearing out but the coating being broken in.
So how has this board faired ?
Here are a few pictures of areas that I have used heavily and as you can see the board has stood up to the wear exceptionally well and the wires haven't really deteriorated at all even though you can see on the pictures they have obviously been hit by darts.
And the bullseye area which I feel is important as you cant turn the wear away at all
Here are a few pics taken recently of how the RvB Darts land and sit in the board as you can see the milled grip area doesn't even come into contact with the board so cause no extra wear in anyway
So What's The Verdict ?
This has been a fantastic board that even after all the use I have had on it in the past 7 months it still has loads and loads of life left in it. I haven't even had to rotate it yet all the way through the black segments so given the use I have had and what I would now expect I can see this board easily still being useable this time next year and you can't really ask for much more than that. Given I have seen these beign sold at under £20 in Argo they really are a steal at that price and if you are in need of a new board then I would get one of these over a Blade III.
So all in all 2 good products from Unicorn that if you are serious about playing darts you should seriously consider trying.