I won these in week 1 of the PL comp and the postie dropped them off earlier - thanks once again to Ginge, Spaceman, TSOD, Ed Lowy and Unicorn Darts.
I'm not big on proper complex reviews - I'll leave that to the experts - but these are my initial comments/thoughts on these darts.
As you can see they come in a nice little box with a rather nice Unicorn luxury midi wallet to carry the darts round in: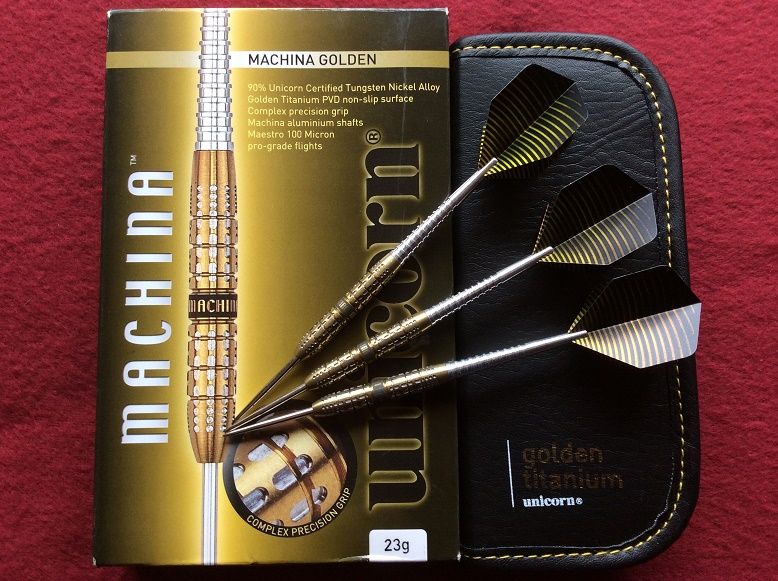 They are 90% tungsten nickel alloy coated in golden titanium PVD and have a complex grip pattern on the barrels. I would say they are a low 4 out of 5 on the grip scale - they aren't as grippy as the Target pixel grip, but in the short while I've thrown them they haven't slipped yet.
I have a large collection of darts and currently use the Red Dragon Jamie Lewis Rastas as my go to darts, but I'm always on the lookout to try other sets just in case they are the ones for me.
I've changed the stems over to tweenie size with normal standard flights and they are flying nice and straight for me so far. I've only had a short while with them and I don't know yet if these will replace the Rastas, but from an initial session I would have no qualms about using these in proper competition.
All in all I think these are very pleasing on the eye, and as well as being complex the grip pattern on the barrels is also very functional. I'm really looking forward to giving these a good going over in the coming days and weeks.